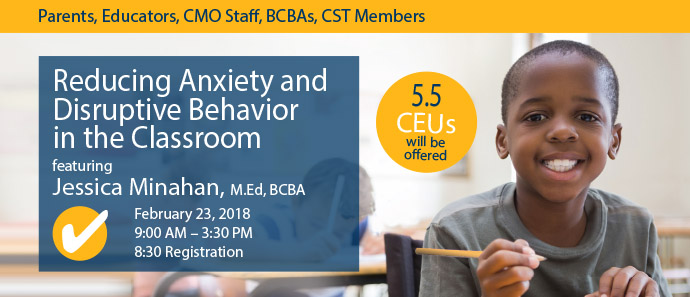 Thanks to our presenter, Jessica Minahan, all of our attendees, and staff who helped make our workshop, "Reducing Anxiety and Disruptive Behavior in the Classroom" such a success.
Below is a gallery of images from our event.
Honor Ridge Academy presents
A Workshop for Parents, Educators, CMO Staff, BCBAs, CST Members
Reducing Anxiety and Disruptive Behavior in the Classroom
DATE: February 23, 2018, 9:00 AM – 3:30 PM
REGISTRATION: 8:30 AM
RSVP: Valerie Fornelius: vfornelius@honorridge.org
LOCATION: 342 Madison Hill Road, Clark, NJ 07066
(entrance behind St. Agnes Roman Catholic Church)
5.5 CEUs offered FREE for educators
One in four children struggle with anxiety, so educators and other professionals need new approaches along with an easy-to-implement toolkit of effective strategies. In this day-long program, special educator, author, consultant and behavior analyst, Jessica Minahan, will present case studies, humorous stories, and examples of common challenging situations. She will teach easy-to-implement preventive tools, strategies, and interventions for reducing anxiety, increasing self-regulation, accurate thinking, and selfmonitoring.
Attendees will leave knowing:
The impact of anxiety on behavior and learning
Why some students seek negative attention
10 questions to ask prior to prescribing a strategy or an intervention
Why breaks may not be helpful and how to change that
How to reduce oppositional behavior
How to teach initiation, persistence, and help-seeking skills
How to reduce negative thinking
How to shift reinforcement systems to increase skill development
How to develop and use self-monitoring systems
About our speaker:
Jessica Minahan, M.Ed, BCBA, is a licensed and board certified behavior analyst, special educator, and a consultant to schools with more than seventeen years of experience supporting students who exhibit challenging behavior in urban public school systems. She is a blogger on The Huffington Post, as well as the author of The Behavior Code: A Practical Guide to Understanding and Teaching the Most Challenging Students, with Nancy Rappaport (Harvard Education Press, 2012) and The Behavior Code Companion: Strategies, Tools, and Interventions for Supporting Students with Anxiety-Related or Oppositional Behaviors (Harvard Education Press, 2014).