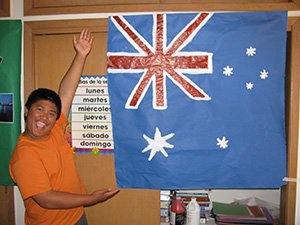 The Extended School Year program at Honor Ridge Academy is designed to maintain skills and reduce regression during the summer months by incorporating academic, social, behavioral, and vocational goals based on students' IEPs.
Each year's ESY Program provides an engaging foundation for learning, personal growth, and fun. Week, by week, students will develop new perspective and skills through instruction embedded in parallel themes in character education.
Below is an example of themes and activities — including Transition activities — we've provided in a previous ESY session:
Week 1 – Trust / Respect
Week 2 – Resilience
Week 3 – Responsibility
Week 4 – Tolerance
Week 5 – Leadership
Week 6 – Perseverance
Activities
Art

Language Arts

Cool Math

Social Studies

Science/Nature & Technology

Music

Gardening

Cooking

Woodworking

Teambuilding groups

Social skills groups

Student mentoring

Community service projects

Field trips

Swimming

Vocational experiences

Student teacher for the day
Related Services
All students receive related services: speech and language therapy, counseling and individual psychotherapy, occupational therapy and physical therapy. Family therapy is also available upon request. Psychiatric, medication monitoring and nursing services are provided as well.
Transition Skills
Eligible high school students will be "junior assistants," mentoring and tutoring younger students to discover whether they would enjoy a career working with young children. They will also have the opportunity for community-based instruction and volunteer experiences at sites such as at the food bank or other charitable organizations.
Each class will engage their imaginations as they take on the responsibility of changing their classroom into a new place every two weeks. They will present their "new place" to each other so that everyone gets to visit and change places. Students will be challenged to learn about the culture, food, music, history, natural resources, weather, etc. However, the room just may change into something else, like a museum, antique shop, or maybe a cave with minerals, bats, stalactites, and perhaps, a little gold. It will all be left to everyone's imagination.
Students will gain perspective when they have the opportunity to "change places" with their teachers for a lesson, or "change places" with another student to experience how changing places is not just a physical move, but can be an eye opening experience coming from someone else's responsibilities, abilities and skills.
In science, they will explore questions around our theme: "What would happen if a fish changed places with a cat or a bird changed places with a reptile?" "How would changing places impact animals?" "How are animals designed for their environment?"
For more information, call 732-827-5885